PSA Annual Conference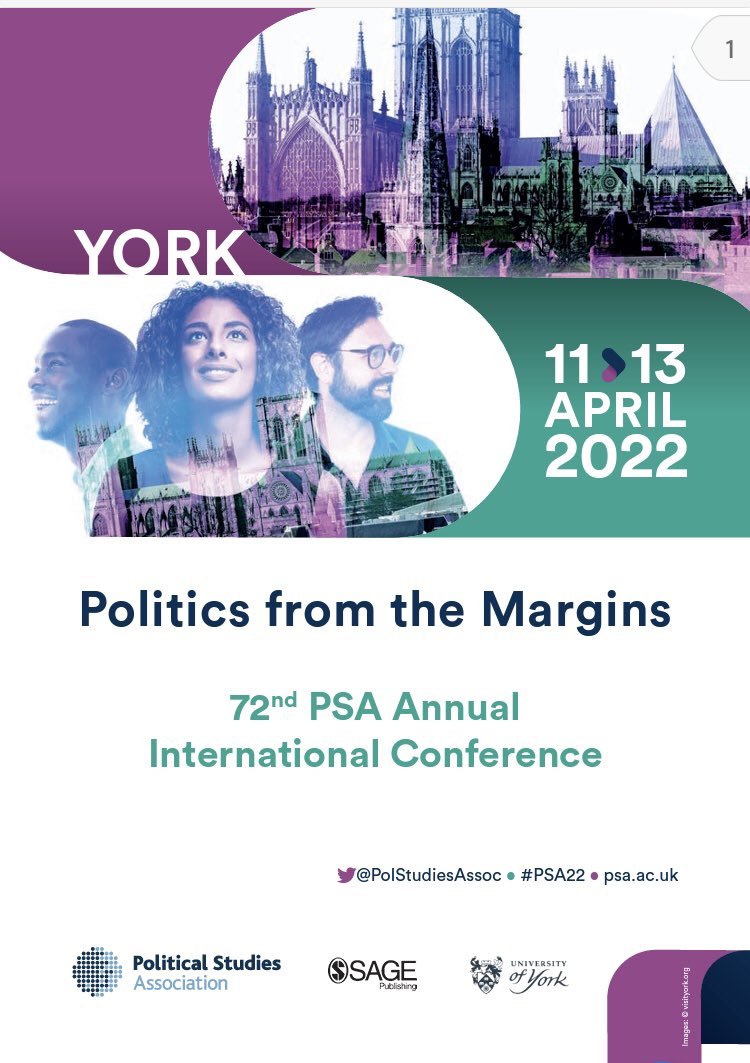 AND THAT'S A WRAP!
What an amazing experience it was for everyone involved - both those in York and those who took part online - our first-of-its-kind hybrid event!
We'll be updating this page further shortly, including details of how to access panel recordings, so for now we'd simply like to thank all those who made this conference such a success.
You can still find the full PSA22 brochure here as a great reminder of just how much took place over three packed days. 
If you presented a paper/papers and would like a certificate of participation, please click on this email link: conference@psa.ac.uk
And look ahead to PSA23 in Liverpool
Members of the Political Studies Association have long, and rightly, had a concern with those pushed to the margins of politics. That concern is all the more relevant after a period in which Covid, Black Lives Matter, and campaigns against sexual violence have each shone new spotlights on the patterns of inequality and discrimination that persist in our societies. So the conference theme of Politics from the Margins was spot on"
Politics from the Margins
The 2022 PSA conference took 'the margins' as a vantage point to investigate political  issues and developments. As the world reels from one of its worst crises in a generation, issues and actors hitherto at the  margins of politics have forced their way to the mainstream. Issues of health and human development have compelled a radical rethinking of statehood, citizenship and political order. The  salience to global politics of actors in Asia and Africa, often marginalized in the past, can no longer be ignored. Marginal seats can move to the centre of attention. Marginalised actors can make claims on the mainstream for a redistribution of power, status and  resources. Marginal risks - of financial crisis, epidemic, climate catastrophe - can take on major  significance. Indeed, what is regarded as a mainstream and what as a marginal political issue is a  point of significant contention and subject to changes which need to be mapped and investigated. 
The Conference invited reflection on shifting centres of power in the global, regional, national and  subnational political order. Devolution, Brexit and 'levelling up' policies have compelled us to rethink the mainstream and the margins in British politics. The rise of the BRICS and other emerging markets force a reconceptualisation of mainstream and margin in global politics. Across the world, political subjects at the margins interrogate mainstream understandings and practices of politics and power. While marginalisation of some political subjects has become further entrenched, other previously dominant voices feel newly marginalised. How does politics change and who benefits when those who feel left out or behind make their  voices heard? What mechanisms contribute to their silencing or to their move to alternative forms  of politics? Finally, inspired by the growing calls for diversifying and decolonising research and  teaching in politics, this PSA conference sought to cast a critical and reflexive eye on political science  scholarship by considering what or who is positioned on the margins within our scholarship and  academic community and what could be gained by including marginalised perspectives, voices and  topics. To that end, we invited contributions that help us to think not only 'from' but also 'with' the  margins, 'against' the margins or even 'beyond' the margins.
Not yet a PSA member? Why not join this thriving community?
Please click here for details. 
Or email membership@psa.ac.uk if you have any queries.  
We had an amazing line up of speakers for this year's annual conference. 
KEYNOTE SPEAKERS
Sanam Naraghi Anderlini was the first of our keynote speakers on Monday 11 April at 1:30pm.
Biography
Sanam Naraghi Anderlini has for over two decades been a peace strategist working globally on conflicts, crises, and violent extremism with a mix of civil society, governments, and the UN.  She is the founder and Executive Director of ICAN and spearheads the Women's Alliance for Security Leadership  which is comprised of independent women-led organisations active in 40 countries globally dedicated to preventing violence and promoting peace, rights and pluralism.
In December 2019, Sanam received an MBE in recognition for her work and for services to international peacebuilding and women's rights. She speaks four languages and holds an MPhil in Social Anthropology from Cambridge University. Iranian by birth, Sanam is a UK citizen, and has twin daughters.
You can read her fuller biography here.
Tshepo Madlingozi was our speaker on Wednesday 13 April at 11:30pm..
Biography
Tshepo Madlingozi is an Associate Professor and Director of the Centre for Applied Legal Studies at Wits University. He has master's degrees in both Law and Sociology, and he received his PhD degree from Birkbeck, University of London. He is a Research Associate at the Chair for Critical Studies in Higher Education at Nelson Mandela University. He is the co-editor of South African Journal on Human Rights. He is a co-editor of Symbol or Substance: Socio-economic Rights in South Africa (Cambridge UP) and a co-editor of Introduction to Law and Legal Skills in South Africa, 2nd Edition (Oxford UP South Africa).
He sits on the boards of the following civil society organizations: the Rural Democracy Trust; and the Mining-Affected Communities United in Action/Women-Affected by Mining Action. He is also a member of the Steering Committee of the African Coalition for Corporate Accountability (ACCA), and a member of the advisory board of Health Justice Initiative. For thirteen years (2015-2018) he worked with and for Khulumani Support Group, a 120 000-strong social movement of victims and survivors of Apartheid as National Advocacy Coordinator & later the Chairperson.
DINNER SPEAKER
Our 2022 Conference Dinner Speaker, on Tuesday 12 April, was the wonderful Magid Magid
Biography
Magid Magid is a Somali-British race and climate justice activist and author who came to the UK as a refugee aged five. He is Founder and Director of Union of Justice, a European, independent, people of colour led organisation dedicated to racial justice and climate justice.
He was a member of the European Parliament representing Yorkshire & the Humber, Mayor of his beloved city, Sheffield and was also an elected councillor representing his community. Magid was named one of TIME's 100 rising stars shaping the future of the world.
Convenors
The conference was supported by Academic Convenors from the University of York's Department of Politics:
• Dr Sara de Jong
• Dr Indrajit Roy
And supported by the convening team:
• Professor Nina Caspersen
• Dr Alfred Moore
• Dr Dan Keith
• Dr Nicole Lindstrom
Full biographies of the Convenors can be found here.   
#PSA22 was presented in partnership with the University of York and SAGE Publishing.